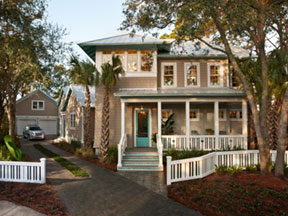 5 Reasons to Go Smart in Your Home (435)
(NewsUSA) – Remember the 1999 Disney Channel original movie "Smart House," where current "Sons of Anarchy" queen Katey Sagal plays the computerized personality of a highly technical smart home? Sure, Sagal's cyborg-esque character, Pat, goes overboard and winds up trying to parent the motherless household — but winning a technologically advanced house that eases chores and offers topnotch security was nothing short of out-of-this-world awesome.
Fast-forward 14 years, professional house planner and HGTV design expert Jack Thomasson designed the first-ever HGTV Smart Home in Jacksonville Beach, Fla. Complete with the latest technology, energy-saving features and green living, anyone can enter to win the house at hgtv.com/smart-home during the sweepstakes period of April 11 through May 31.
But, in case you aren't the lucky winner, Thomasson shares his top five tips to go "smart" with your home technology.
1. Find a system that speaks your language. Technology can be intimidating, and if it can't be explained within your comfort zone, don't do it. It's so frustrating to invest in something that doesn't offer a return. When you invest in technology for your home, take care to find the right system.
2. Maximize security options. This can make your life easier and more secure and bring you peace of mind. For example, a front door that you can lock and unlock from a smart phone can free you of giving precious house keys away that can be duplicated at any hardware store. Or, discreet security cameras can alert you when someone is approaching your home.
3. Enjoy the luxury of remote function. That same technology that brings you security can bring you luxury. When you can control your home remotely, you eliminate everyday worries. If you become distracted while filling the bathtub, you're covered — a Smart Home will shut it off automatically at a pre-designated fill level.